How does the Precision Index Oscillator work?
The Pi-Osc indicator uses some very ingenious and logical factors in its calculations, some of these factors are found within conventional oscillators and some are not.
The components that go into computations are identified below.
Money flow index provides a simple snapshot of how sold out a stock or future really is and when measured in three different time frames gives a slick consensus view of money flow.
Relative strength index (RSI) still the No1 most popular indicator in use today as its power to identify overbought and oversold qualities in sideways markets is exceptional. Its poor performance in trends is greatly reduced when seamlessly integrated with the PI-Osc algorithm.
Demand index, being one of the designers favourite indicators for measuring the future direction caused by a large volume trade is incorporated here as well as its exceptional efficiency as a divergence indicator. James Sibbet's creation provides an additional stellar incisive cutting accuracy to the Pi-Osc.
Divergences. Pi-Osc measures divergences which occur in five different time frames from two different indicators, realising that divergences are often spurious in their reliability, the designer only factors 4% of the total indicator reading from these. Paradoxically the buy and sell zones have to have at least one observation of a divergence to trigger a signal.
Volume is always a factor that precedes a price change, as stock prices cannot move without a real money value being assigned to it either as a recent trade or a bid-offer order being placed. The designer's understanding of volume patterns is very useful addition incorporated into the Pi-Oscindicators unique conception.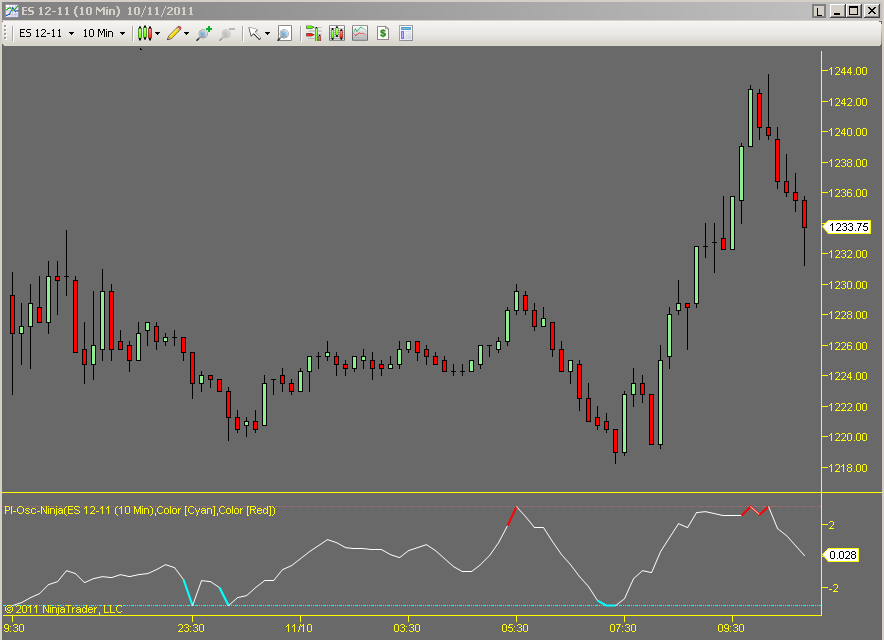 Momentum frequently decelerates prior to market turning points and PI-osc is monitoring several timeframes of smoothed momentum samples in its calculations. But unlike a conventional rate of change or momentum indicator the Pi-Osc indicator scores a neutral reading when momentum is rising or falling fast, and a reading is only factored into the output when momentum is reducing, thus indicating a higher probability of success.
Probability is another feature of this algorithm. Although rarely used in industry standard oscillators, the designer has added a standard deviation (2.9) factor into this indicator as the more usual 2 standard deviations used in Bollinger bands is just not reliable enough to bet hard earned cash on. Normally distributed price sets have a 99.9% containment within 3.3 standard deviations, so when this is breached the Pi-Osc adds or deducts a further value to its output number.
Stochastics have similar attributes to RSI oscillators and have contributed a factor into PI-osc due to their smooth and reliable ability to identify buying and selling points on non trending markets.
Price patterns. Generally the industry standard oscillators just use the closing price to calculate their values, and although some indicators such as the stochastic use the high and low in their mathematics, few oscillators are actually programmed to respond to unique candlestick chart set ups. PI-osc is setting the standard with its intelligent programming to recognise when the current chart pattern is shouting Buy! Several of the more reliable patterns are factored into the algorithm.
When all the maths is done, Pi-Osc does an exceptional job of determining true buying and selling points. Basically the trading interpretation is made very simple for you, as the buy and sell zones are so logically determined, not by one factor but from a large consensus "vote" from more than one different computation.
The benefits of this indicator are that it saves valuable time in "confirming technical analysis signals" and all trades know time is precious as large price changes can be missed in seconds while checking other confirming factors. It takes the hard work out of it, and lets your computer do the brain work.
Ideally this indicator is best as an entry signal, and exits are best done with a trailing stop which has a logical trend following exit, as its quite rare that the Pi-Osc will run right to the other extreme and issue a reverse signal.