Testimonials and comments
Below is a testimonial NewSkills course tutor Robert Newgrosh MSTA (Member of the society of technical analysts)
Mr Newgrosh achieved the highest ever recorded marks in the society of technical analysts exam in 1988 with a mark of 90% which is a distinction.
As he is the most experienced stock market tutor in the United Kingdom his words carry a lot of weight. I have added a lot of knowledge in the 13 years since attending these course.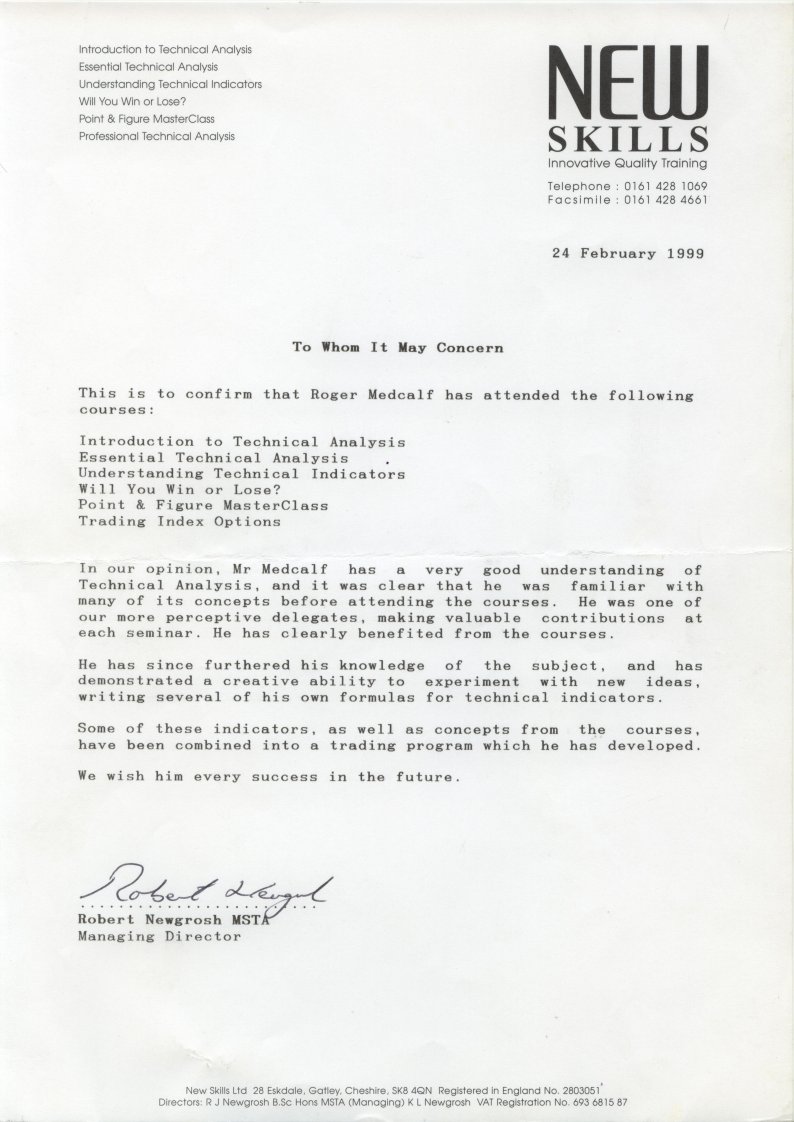 A few testimonials and comments from customers of Precision Trading Systems
It is literally man vs. machine for the individual investor or trader today and you need all the help you can get.
I think Roger's web site is fantastic. The indicators are top notch and the site offers valuable no nonsense information for traders of all experience levels. The trading game is an eye opener and the pages dedicated to risk management and optimal risk calculation are a must read.
Thanks,
K
(Comments from the Trading IQ Game 2011 World Champion Kevin Brown)
Thank you for the Piosc indicator Roger
Seldom it is possible for an indicator to find bottoms with such pinpoint accuracy
I am keen to await your new version of PLA for ninjatrader
I am impressed with your work and site content Thanks
Thank you for your accurate and fast reply to my email, i have never experienced such fast service before.
K
Dear Roger,

I have got the precisionstop file and used it on my trading. It works well. Thank you~




Regards,


Y
Roger-

In a short time, after many years of trading, the Pi-Osc is something that is now hard to do without.

It has kept me out of a few very bad trades, which I think is sometimes at least as important as getting in to the good ones.

I also like that it does not give a lot of signals and, as such, it is quite picky.

I would like to pay the additional $322 for a 10 year license for NinjaTrader.

Will there be a new 2012 version for Pi-Osc, or is this it?

Please also keep me informed when you will make Mach-Trend for NinjaTrader.

Thank you very much, and regards,
A
San Diego, California
Hi Roger

Many thanks for your kind gesture and generosity! Much appreciated... :)

Yes, I did supply a different license number -- so as keep these 2 indicators separate and distinct to prevent any confusion... :P

Thanks again! Have a nice weekend...
E
Here are two stocks I play over and over. KGC has already bottomed and I am waiting for HL to bottom.
No other indicators just PIOSC
There is a lot of money that is just waiting for you take.
Regards, M
hi Roger
i'm so excited. you were finally able to get your indicators coded for NInja. thank you so much.
a few questions if i may: is the precision lagless average coded to change colors when it changes direction either up or down?
also, does the mach trend work on all kinds of bars? i prefer tick and renko.
thanks so much
G
Your product will be a great asset to all of those platform. Just let me know when things are sorted out. I am interested.
Regards, M
Hi Roger,

Thanks for you time and your help, i learn a lot with your website

Good night

C
Hi Roger,

It's working perfectly now! Thanks so much for the fix, and if you're presently in the UK I really appreciate the extra effort late on a Friday evening.

Have a great weekend,

Cheers,

R
Roger
Thank you for your reply. I did receive your message from your other account, and I appreciate that you took the time to respond while on your vacation. However, I was wondering if you wouldn't mind clearing something up for me. In your response you said that you trade differently than the way I hope to be able to trade. I had stated that I hoped to take much of the emotion out of my trading and use a more defined (almost mechanical) system. I guess I am just confused on this point, as it appeared in your video where you were trading with the Precision Stop Indicator that you were mostly entering and exiting trades based on the indicator signals. I am sure there is probably more to it than what it seems, as any system left unattended probably encounters issues if you're not careful. However, was I totally off in my assumption that you mainly develop and test your strategies, and then trade based off of your indicators and signals? Sorry for the confusion; I am just trying to understand what exactly you were telling me in your first response so that I can learn and progress.
C
Hi Roger,

I found the problem, instead of a dot its a comma with Multicharts, its working great now

Thanks for your time

C
Hi Roger,
I saw the trading game last week...thought it was excellent, just did the 3 sample ones....didn't cover myself in glory I hasten to add!! Will sign up to it this week, I've also encouraged others to do so as it's a great insight into the price dynamic.
cheers
P
Roger, I havent sent a chart in a long time so I thought I would send a few.
I only take the trade if your Pi-Osc indicator bottoms (cyan) along with the CyclePro indicator (yellow) and sell when the CyclePro indicator tops (magenta)
Sometimes the Pi-Osc and CyclePro top together.
Keep it simple. TTrade less make more. The Pi-Osc is the Holy Grail.
Regards, M
Hello Roger,
Happened to find your site. I am glad.
I would appreciate if I can receive your free indicators and see how they function on my data. Esp. the Precision Volume among others.
I would also be interested to look at your, smarter parabolic SAR as well in the near future - can you give me more info?
Thanks much.
G
Roger you are amazing, do you ever sleep? It must be 3am there in england and you are still awake replying to emails.

K
Hello Roger,
I just installed the Precision Stop Loss indicator and strategy into Tradestation 9.0. I've been playing with it after looking at your videos on how to use it. I notice that TS 9.0 appears not to have the 3D graph you show in your video.
I basically would prefer to hold stocks between three months and a year, ideally trading no more than about three or four times per year. So I look for trends in weekly data.( I got killed trying to trade more frequently and held on to losers, selling them like a fool at the bottom--I think part of this was due to not knowing which period I was trading.) I think I can make good money trading long based on iTrend and using PSL on these intermediate trends. I also use Ehler's Fisher transform indicator and a smoothed stochastic indicator for confirmation of price extremes in cycles.
Incidently, I am tempted by Ehler's MESA program, but I can't seem to get much feedback on how well it works, so I'm reluctant to part with $500. I'm also tempted by your Precision MA and your Mach-trend program which produces a graph similar to Ehler's Laguerre indicator, but I will have to wait. I would be interested in what you think about MESA. If you could comment on the issues I raise, I would be very grateful.
By the way, thanks for the work you do--I'm very impressed at the intelligence built in to your products.
Sincerely,
P
Thanks Roger. I appreciate it. I got them all imported into TradeStation w/o any problem. Quite an accomplishment for me as I'm not a computer whiz. If only it were this easy to import indicators from the TradeStation library.



Thanks again.
D
Roger
Thank you!
N
I saw it on your website earliar today. Fantastic.
I just wanted everyone to see that what you offer works and that they can put it to work immediately and make money. When I submit more charts I will make sure that only your indicators are on it. Keep up the great work.
Regards, M
Roger,
Thanks for the advice. What other indicator, if any, do you feel will best compliment your precision stop indicator? BTW I wasn't able to find any day trading article, so what periodicity, in your experience, is the minimum for day trading profitability with your indicators? Thanks, I appreciate your time.
Regards,
B
Hi,

Your website is really interesting, i am learning so much

best regards

N
Wow that was fast! thks– thanks again) .
MH
Hey Roger,
I'd love to have your indicators and automated strategies transferred to Ninja Trader platform. I can't wait when you are going to release those indicators for Ninja. Is there any date set for the release?
Thank you.
B
Dear Sir,
I was very glad to visit your site as I got to know that you have worked extensively on the subject Index Indicator. I need codes of the Insync Indicator suitable for MetaStock Charting Platform used by me for Indian Stock EOD data. Kindly send me the codes as soon as possible. Please also explain how figure of +/- 55 is arrived at if only 8 Indicators are used, it should be +/- 40? There are three more questions: Names of the 8 Indicators, their Overbought (OB) and Oversold (OS) levels and their parameters chosen. In the case of Stochastic, CCI, RSI and even MFI, OB and OS levels are known but in the case of MACD, BB etc how are these levels determined? Most of these points would be clear once I see your codes and algorithm.
Thank you.
V
My Dear Mr. Roger,
I am grateful to you for promptly responding to my request. Information sent by you was also available at Equis website but implementing it on MetaStock is creating some new problems. Perhaps each line will have to be entered as a separate function first before entering the final formula. Sorting out this will take some time. I am deeply impressed by your outstanding product range and your ability to look at things from traders' point of view. I am impressed by your PIO in particular I would like to make sure if it can be drafted in MSFL and how effectively it will work on EOD data of Indian Stocks. Meanwhile please send me, if possible, some free reading material on PIO. I have one more problem; I want to judge the strength of the trend in early stages of the trend. Can you help in any way?
Thank you once again for all your help.
V
Hello Roger,
I noticed your new indicator identifying math. probability of price location in the future and wonder if you had made a more "generic" version that could use other indicators/oscillators to test their recent validity.
Specifically I have had on the research list a way to quantify the effectiveness of various oscillators ability to identifying price reversals "x" bars in the future. I know this can be visually done with PDF functions via excel, but I like the way you do it and especially would like to keep it in tradestation.
My idea is that oscillators work some of the time -not all the time, and this type of analysis would measure firstly the indicators overall effectiveness, and also how effective it has been in recent bars (possibly as a ratio?). Instead of testing effectiveness over "x" number of bars, it would measure effectiveness over "x" number of signals. ie. the osc. crossing a threshold.
Just wondering if you had taken your research in this direction, or whether your current study could be modified to do something along these lines.
I have long viewed your work as innovative, nice job.
S
Roger,
Wow impressive prompt reply...
Thanks,
J
Roger,
I deleted the PPI in easy language list and reinstalled per your instructions. Unfortunately, it is still giving me the same error. Thank you for your excellent explanation on the PDF and lack of accurate sell signals...believe it or not, I understand it. No rush on getting the PPI fixed via remote access, whenever it is totally convenient for you.
Thanks,
K
Thank you, Rodger. I am very excited to use this program.
J
Hi Roger,
sending snapshot on a euro trade
when one of my other volme price indictors shows up a Exhuastion with a extreme PI level, magic happens ... every time On on the Aussie in Pound they work just as simple as that
good stuff
G
Excellent

Thanks for the quick reply and indicator.

J
This software is a gift that keeps on giving dollars!
M
Thanks a lot Roger, I will start studying them and doing some research as I think the demand index divergence indicator might be something I will look to purchase in the near term. One thing I noticed is that the VFI plots on the same subgraph as the underlying data (price data) and that seems to visually affect the proper view of price itself. Is there anyway I can modify the code to correct this issue, so that the indicator can be plotted in another subgraph independently.

thanks a lot

O
Hi, Roger. I'm writing to inquire if you have given any thought to programming PLA for Ninja Trader. If, or when, you do, please let me know because I'll be a customer. I recently gave up Trade Station and I miss PLA.
M
All Winners. All time frames. Thank you Roger for the keys to the bank vault.
There is nothing I have seen that can touch this brilliant software.
Regards, M
Hi Roger,
Hope all is well.
Your website looks great, some great videos on it. I've used many of the platforms on the list and find Ninjatrader the best of them, so I'd definitely vote for it. There appears a bigger community for it versus metastock and esignal.
Please let me know when version 2 of PI-Osc is out.
Cheers
P
Here a a few charts from this last week.I could have sent more.This software is not a one shot wonder it's a one million shot winner.
No need to respond I just love updating you on your software.
Regards, M
That looks like a $7000.00 trade in 9 days. The real deal in real time.
Regards, M
Thank you for the kind comments. I appreciate the offer concerning the Precision Divergence finder but it works so well on my TradeStation program I really don't need it on the other platforms. I would stick with your plan. I will look forward to all the new platform indicators. Thanks for sharing your hard work and creativity with us.
Regards, M
Yes. I would be glad to be a part of affirming your great software. I have your website in my favourites. thank you for offering me a discount on future purchases. You will hear from me again.
Regards, M
Just had to send a couple of photo's of how fantastic you indicators are. Finially an indicator that is leading not lagging.
Great on a 150 tick chart and 15 min. chart.
The only thing I had to do was shorten the look back period to 30 days. When I went back 200 + days it took forever for the chart to load.
I have checked the signals on both look back periods and they are the same. I am sure it is because of the high volume stocks I trade that the lower look back period works.
Thanks also for offering these for the TradeStation 2000i platform.
From a very satisfied customer.
Regards, M
I am a big fan of your new oscillator!
P