Inflation is coming, the early stages are here already in most countries over the world.
What causes inflation?
Inflation is coming to USA and England and all other countries where the money supply has been increased
The first things you won't want to know are these shocking facts.
The counter represents the national debt of England, shortly it will top £1 Trillion

The daily cost of the interest payments for the UK September 2010 is £120 million PER DAY

The USA national debt is around 20 times higher

Central banks around the world have made massive increases in money supply by way of Quantitative easing.

This is a fancy world for making more bank notes or printing money

Genius financial wizard Milton Friedman proved that inflation is directly related to increases in Money supply
As the money supply increases, there is more money available to spend. So in simple terms people who sell goods realise that prices ought to go up accordingly or they will lose out. The buying power of 1 Dollar or 1 Pound is reduced or diluted when more money is printed.
The effects of inflation are very ugly, and the effects of hyper-inflation always result in a total destruction of an economy.
Look at the graph below of the Zimbabwe ZSE stock index, see how it rises from 10,000 to 4 million in a one year period.
The majority people do not believe such inflation can hit the western world in the same way.

They are very very wrong. The USA have increased their money supply in a similar magnitude as done by Robert Mgabe in 2007

Prices of food sky rocket out of control, and at the peak the cost of 3 eggs rose to 100 Billion Zimbabwe dollars

After this the currency was scrapped and has been replaced by US dollars
In 1970 UK inflation was 6.4%

In 1974 UK inflation had jumped to a massive 15.9%

The situation in 2010 is so many times worse than in the 1970's

We can expect UK inflation to rise exponentially over the next few years and surpass the 1974 peak.
Between 1968 and 1998, according to a 2001 speech by Mervyn King – now governor of the Bank of England in London – the correlation between growth in the world money supply and global inflation averaged 0.98, a near-perfect correlation.
How clever are you? Try the Trading IQ game and win 10% off products

How does INFLATION affect the average man?
The bottom line is that the public will lose out. Here is how.

Food prices are worst affected, they rise greater than your wages will rise

Cash becomes worth much less, so your savings will be "inflated away"

The buying power of your money will be very low when you take a vacation abroad.

Shops keep increasing the price of their goods as the local currency buys them less imported stock.
What are positive aspects of INFLATION?
The value of properties usually rise in the local currency

Peoples debts will become smaller relative to their income and assets

The elite can benefit from inflation for these reasons

Having large amounts of assets such as stocks or property or precious metals can enrich the wealthy

The general public who do not have large asset bases usually become impoverished

Stocks tend to rise as the companies make more profits than before.( Such as in the Zimbabwe)
What can you do to stop inflation from destroying your wealth?
To begin with you can avoid being like the "average man" in the quote below...
The average man doesn't wish to be told that it is a bull or a bear market.
What he desires is to be told specifically which particular stock to buy or sell. He wants to get something for nothing.
He does not wish to work. He doesn't even wish to have to think
--- Jesse Livermore ---
There is enough time to learn how to catch the really big trends in the stock market that occur in hyper-inflationary environments. A good system is essential to keeping on the big moves
Mach-Trend takes a long trade here at 16p exits at 310p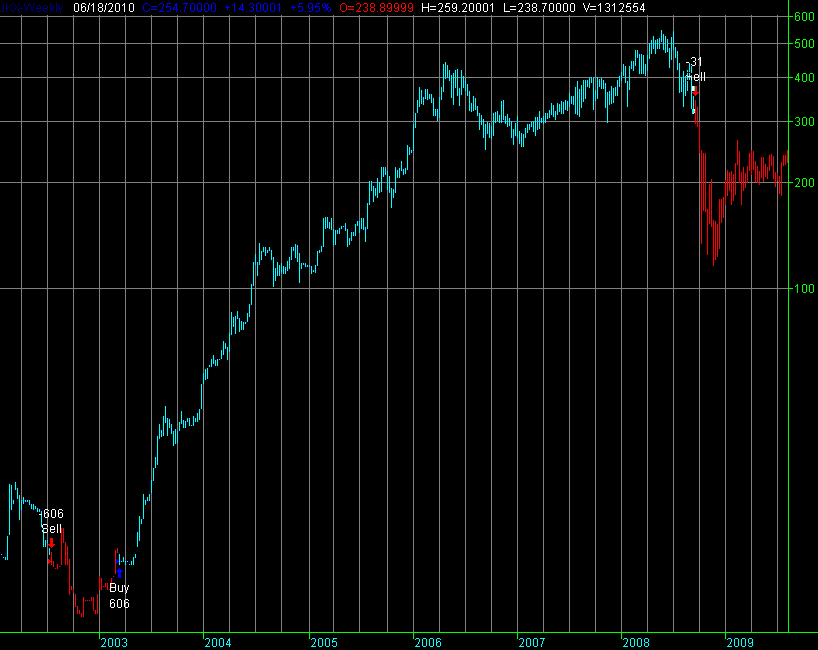 The Mach trend platinum PRO indicator is designed purely with three important points
Keeping YOU in the major trends

Reducing whipsaw trades to a minimum which has the effect of...

Cutting your dealing costs and commissions down
INFLATION
Are you ready?