Precision Probability Index for NinjaTrader7 and NinjaTrader 8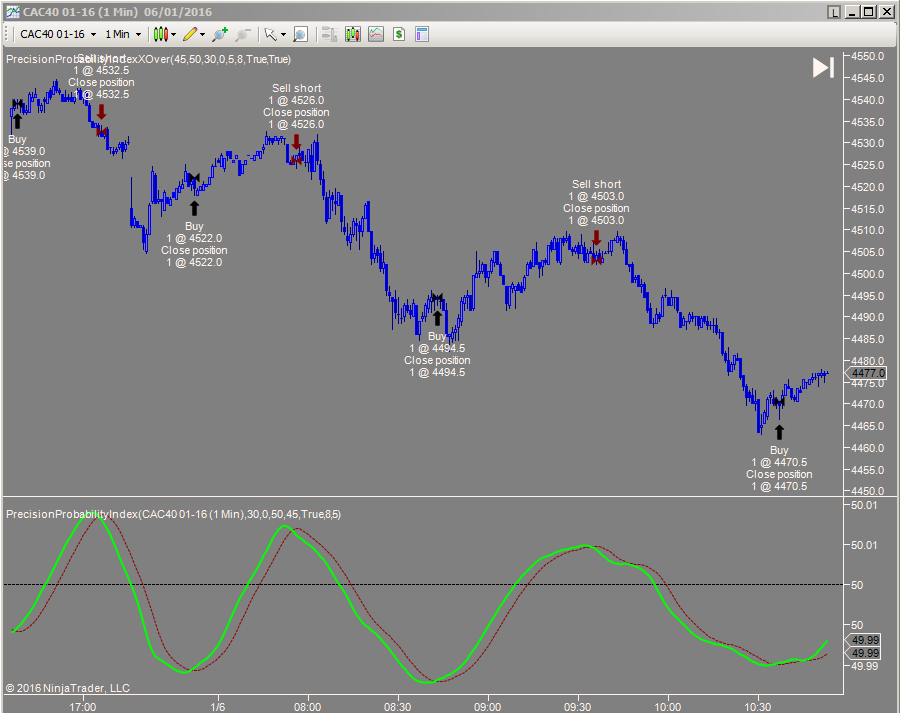 This is a complex product: The design features of which are unusual and require careful study to understand


The Gold Version comes with two types of strategy and indicator for advanced users
Signal line crossing strategy ( Generates trade on the crossing of the signal line on the main plot shown above )
Level cross over strategy ( Generates trades on the cross of the level of probability you specified ( default is the crossing of 50% )
Dead spot feature to reduce whipsaw and over trading if required ( this is done by removing the middle point ) EG buy above 50.1 sell below 49.9
The Indicator shows exact percentage probability of one moving average being above another in the number of bars future specified
Locks onto the big trends thus keeping you in the good trades, while getting out of bad trades quickly
Can be used to trade long positions only or short positions only or both long and short.
Practically infinitely optimizable to fit any situation that you require with 6 optimizable user inputs.
Works well on very short term real time charts and longer term charts with equal efficiency
Methods of usage
The indicator can be used as a confirmation tool to enhance your own strategies profitability
Know exactly what the odds are of the market rising or falling
Observe the crossing of the signal line on the main plot to warn when the probabilities are moving
As a risk calculation aid to know the odds of your trade going in your favor in X number of bars into the future
With a distorted exaggeration factor one can use it as a binary trend indicator ( Ranging from 0 to 100 )
An excellent divergence indicator giving reliable signals
Explanation of how it works


The indicator computes the exact mathematic probability in percentage terms of a slow moving average being above a faster moving average in a certain period into the future. This produces a sinusoidal plot as shown in the photos.

The settings used allow incredible versatility of uses. A smoother is provided on the main plot which irons out the false and useless wiggles and this is user adjustable of course.

There is a signal line which can be shown or hidden depending on preference and useful trade signals can be generated when the main plot crosses above or below the signal line plot.

Other signals can be generated by the cross above or below 50%. Here also this is configurable to compensate for bullish or bearish technical set ups. The default value is 50% but you can set it to buy above 51% or 50.0002% and sell below 51% or 50.0002%.

Dead spots are can be created simply by leaving a gap between the buy above input and the sell below input. EG Buy above = 50.04% sell below = 49.96% gives a symmetrical Long-Short strategy with a dead spot of 0.08 wide. The concept of this dead spot feature is designed to reduce over trading at points of near equilibrium market conditions.

You can skew the dead spot to any level you wish, for example if you are bullish of the market you might like to buy sooner and sell later, so you can find the mid point of 49% and set buy above to 49.02% and sell below to 48.98%. Huge flexibility can result from doing this.

In addition there is also an exaggeration factor which distorts the volatility component of the model to allow exaggerated readings, the reason for this is to enable Precision Probability Index to function as a binary trend indicator, or as an accurate probabilistic computer, and various mutation in between these.




Precision Probability Index comes in three versions to suit your requirements the table below shows the features of each

This product has been tested by NinjaTrader staff and has passed their testing procedures

| | | | | |
| --- | --- | --- | --- | --- |
| Included Features | Indicator | Long only, Short only and both Strategy | Fixed point cross Strategy | Signal-Line cross Strategy |
| Gold | YES | YES | YES | YES |
| Silver | YES | YES | YES | NO |
| Bronze | YES | NO | NO | NO |
Chart below: E-Mini SP500 Futures 10 minutes
Precision Probability Index is used to trade on the crossing of the 50% line
Notice the bearish divergence that validates the sell signal which occurs afterwards

View licensing prices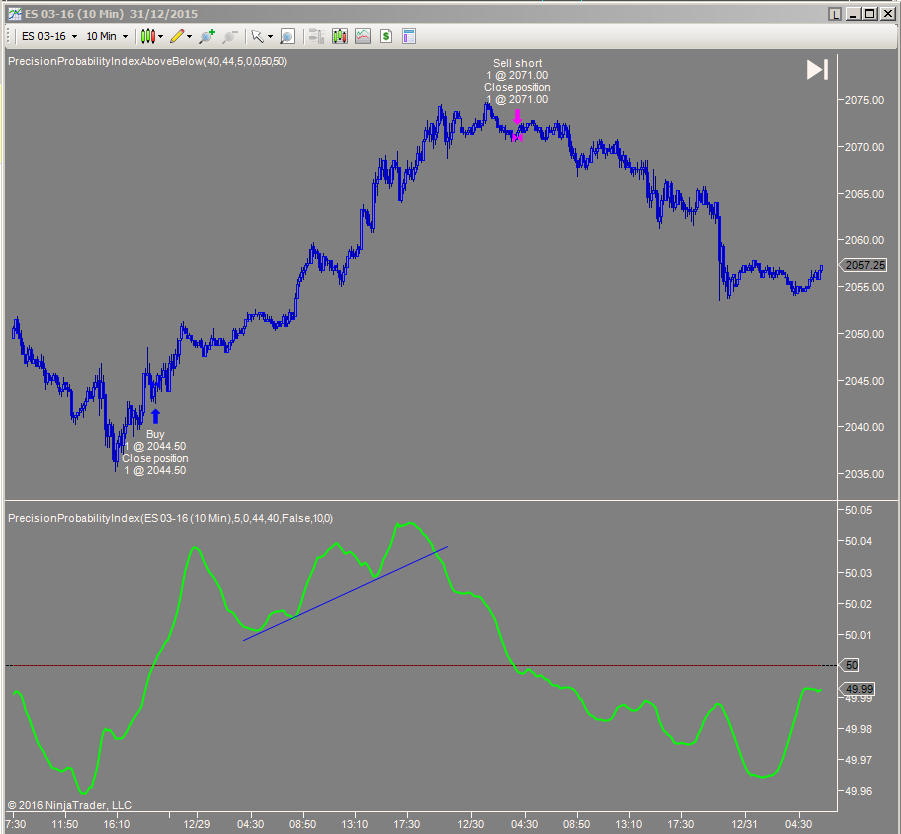 Chart below: CAC 40 Futures 1 minute chart
Precision Probability Index shows the signal line plot enabled and trades can be taken either by the crossing of the lines
or by the crossing of the 50% line.

View licensing prices
TRADING IN THE 20 TICK TIME FRAME SHOWN IN THE VIDEO IS NOT RECOMMENDED DUE TO COMMISSION COSTS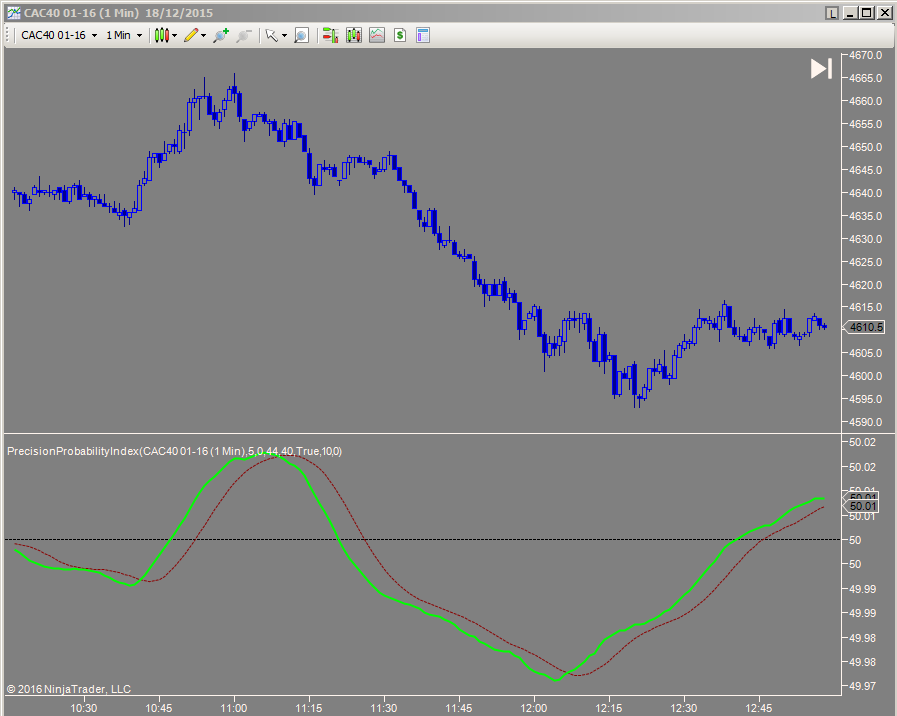 Chart below: CL 2 Renko bars
Precision Probability Index works on any chart type in the Ninja Trader platform, includin the Renko type below.
Here you can see the "above below strategy" giving timely trades on the CL light crude oil futures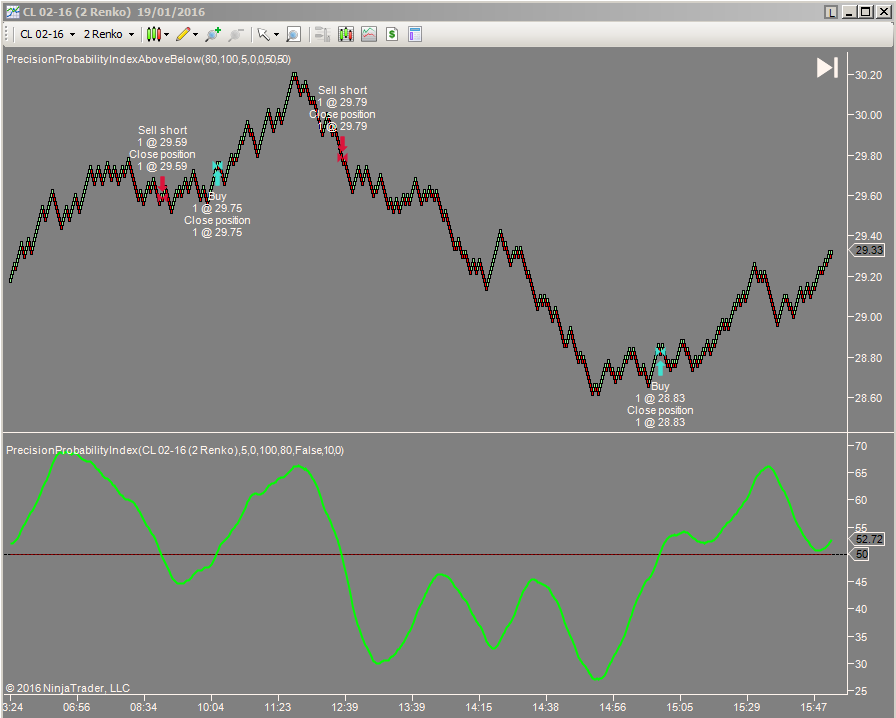 Chart below: CL Futures 60 minutes
Precision Probability Index is used to trade on the crossing of the 50% line
Notice how well the strategy stays short during the volatile downtrend when many other strategies would be shaken out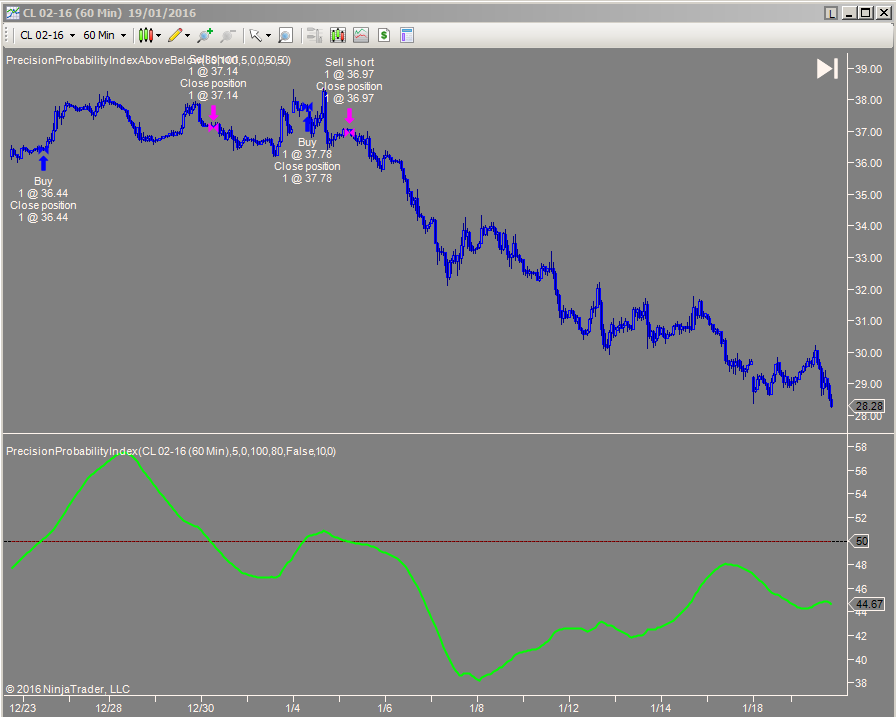 Chart below: GBP-USD 15 Minutes
Precision Probability Index is used to trade on the crossing of the 50% line
The slow average is set to 100 and the fast average is set to 80 and Bars futures = 100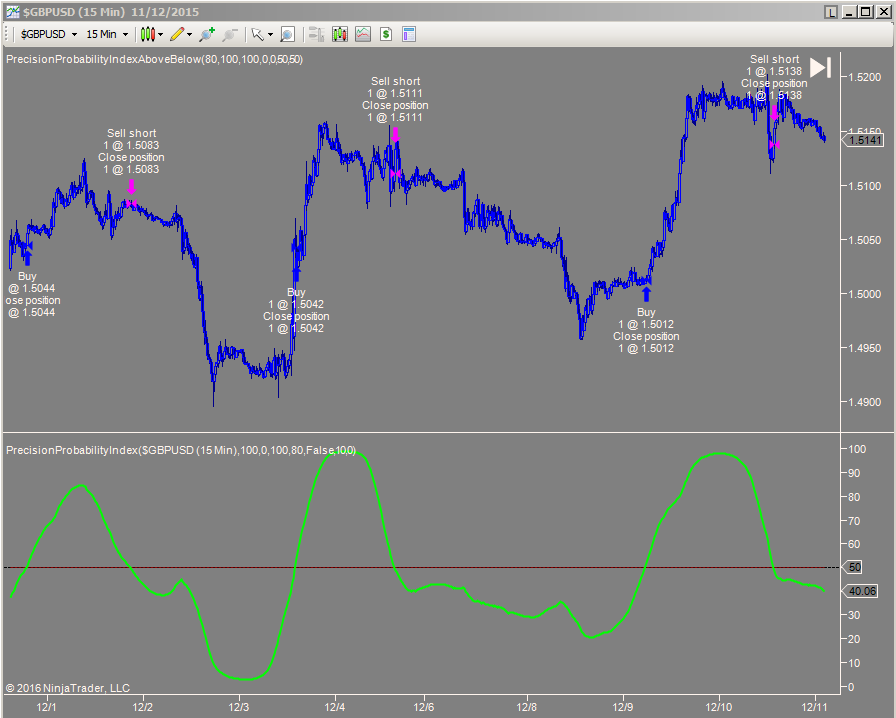 Chart below: DC Milk futures Daily chart
Precision Probability Index stays long from 5.30 to 16.45 in a signal trade

Did you notice the bearish divergence that occurs before the sell signal?

View licensing prices

Chart below: EUR-USD 10 Minutes
Precision Probability Index is used to trade on the crossing of the signal line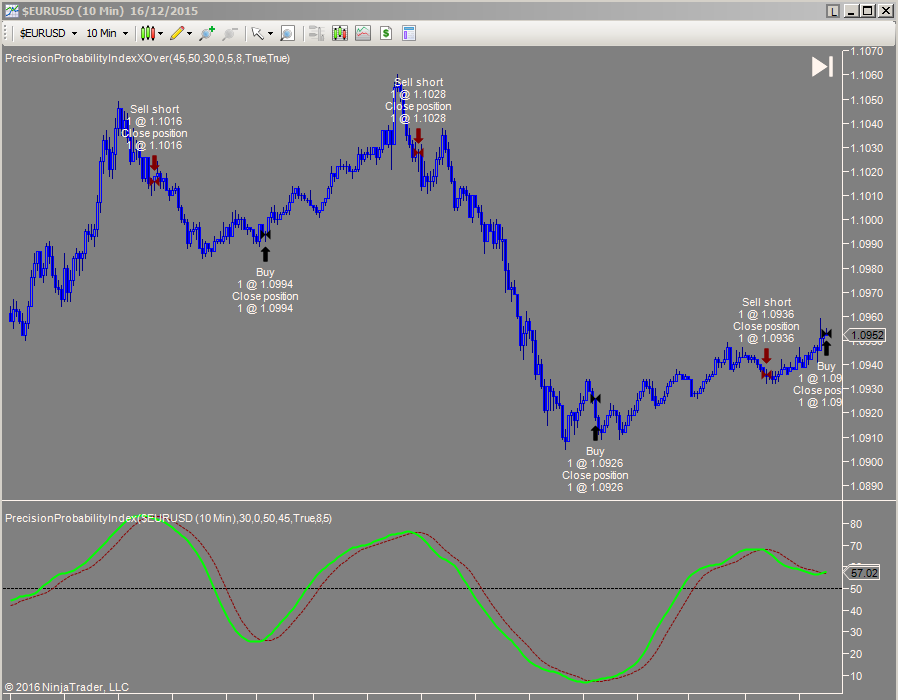 Chart below: CHF-JPY 10 Minutes



Precision Probability Index is used to trade on the crossing of the signal line



In the image below you can notice the signal line smoothing is increased to 30, this helps to reduce whipsaws and over trading on a noisy data series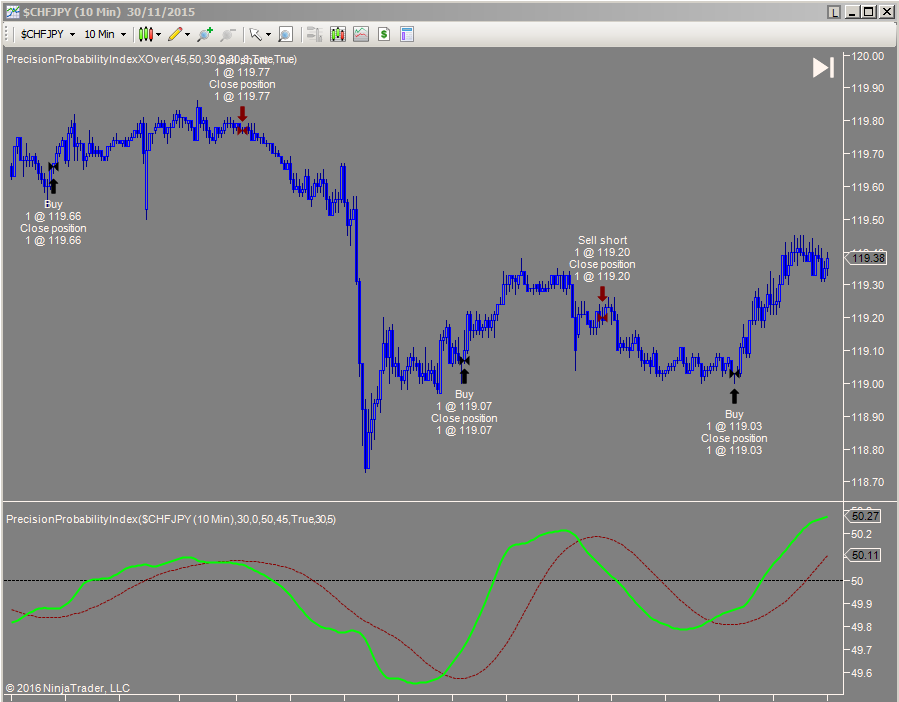 Chart below: Dax Futures FDAX Daily



Precision Probability Index is used to trade on the crossing of the signal line



Below the long period is reduced to 12 and short period is 9, Bars futures is set to 3, this gives a faster response on longer time frames charts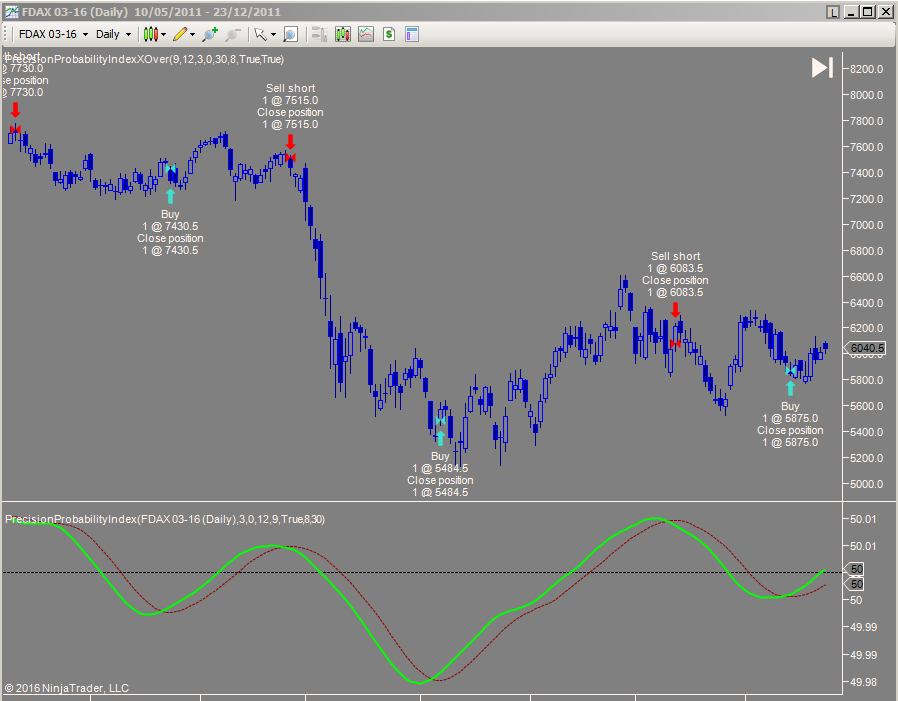 Chart below: NDK Daily



Precision Probability Index is used to trade on the crossing of the signal line



Bars futures set to 3, Long period = 12, short period =9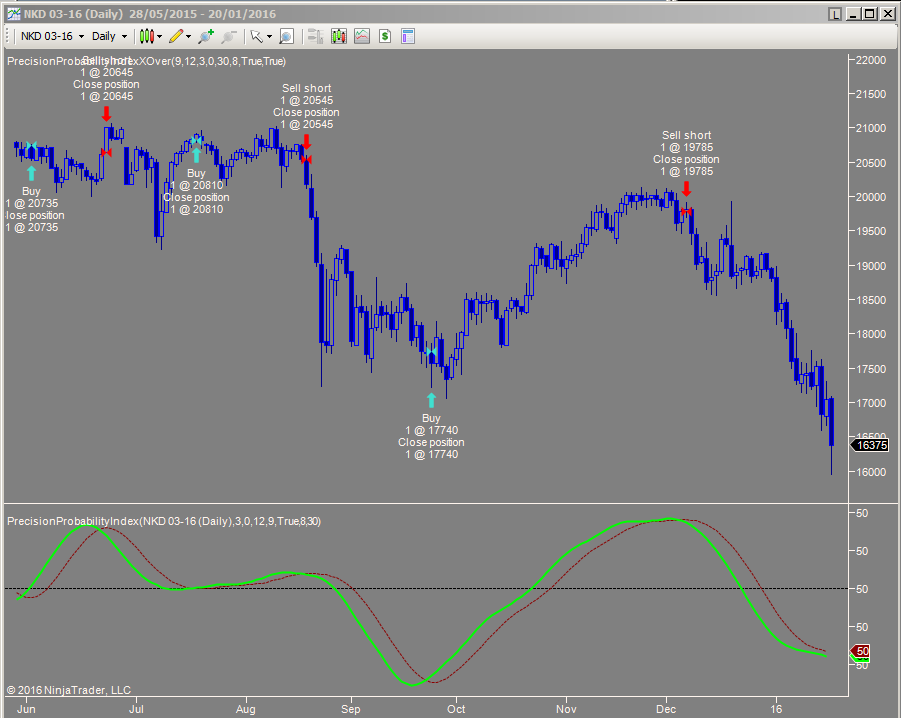 Chart below: GBP-AUD Daily

Precision Probability Index is used to trade on the crossing of the 50% line

View licensing prices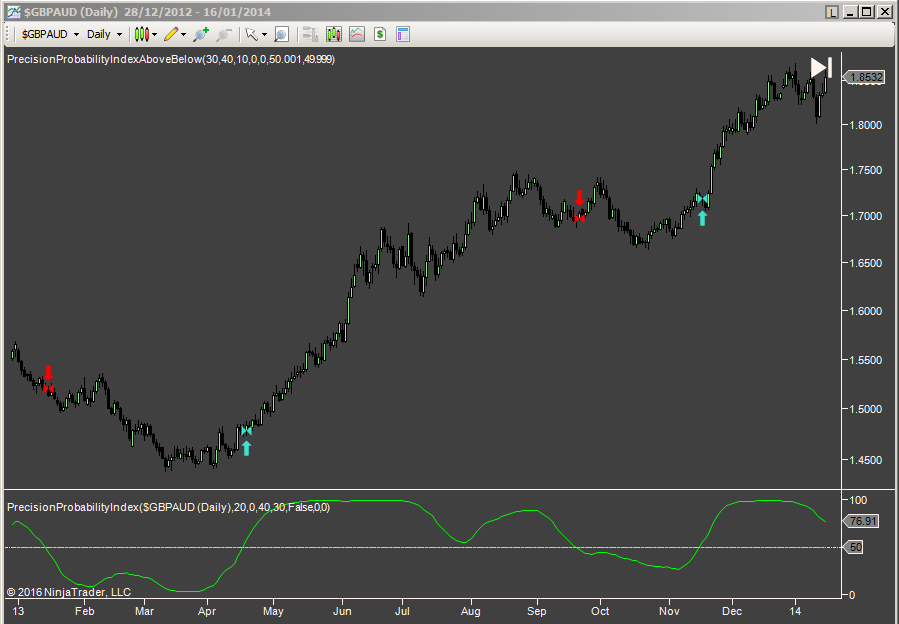 Chart below: GBP-USD Daily
Precision Probability Index is used as to trade the crossing of 50%

Small losing trade is shown in between two large winners
View licensing prices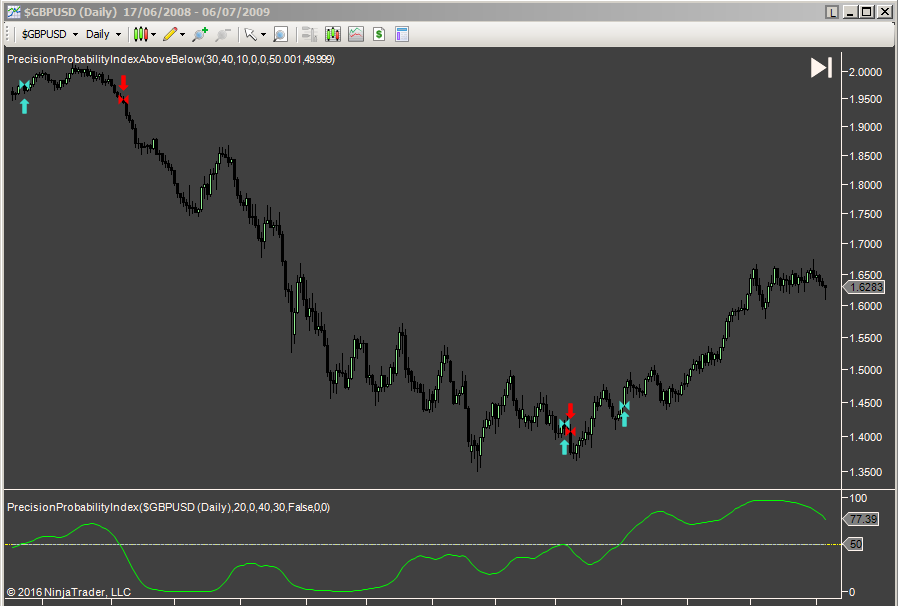 Chart below: ^XAU Daily
Precision Probability Index is used to trade on the crossing of the 50% line
The slow average is set to 40 and the fast average is set to 30, catching an enourmous short trade

Notice again just before the last buy signal there is a bullish divergence forwarning a possible trend change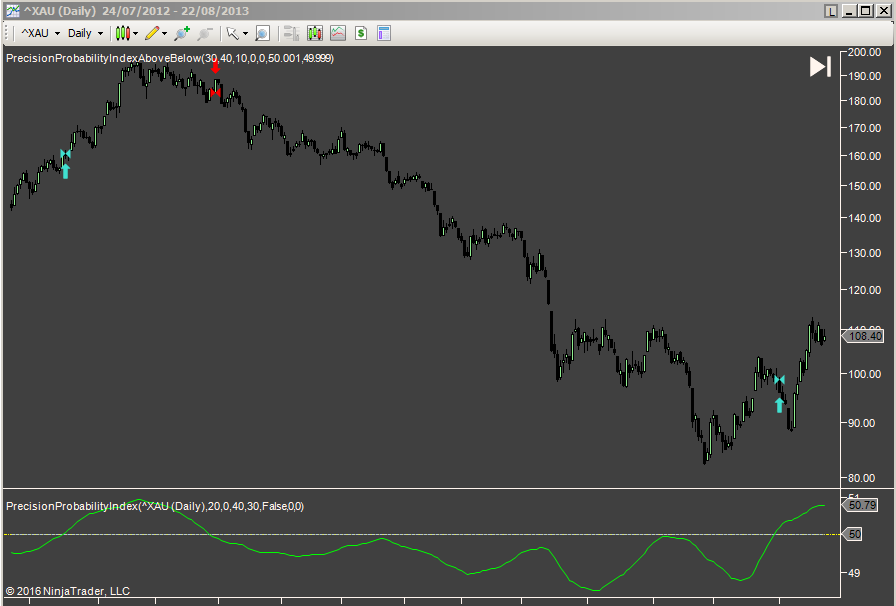 Chart below: GBP-USD Daily
Precision Probability Index is used to trade on the crossing of the 50% line
The slow average is set to 60 and the fast average is set to 50 and Bars futures = 20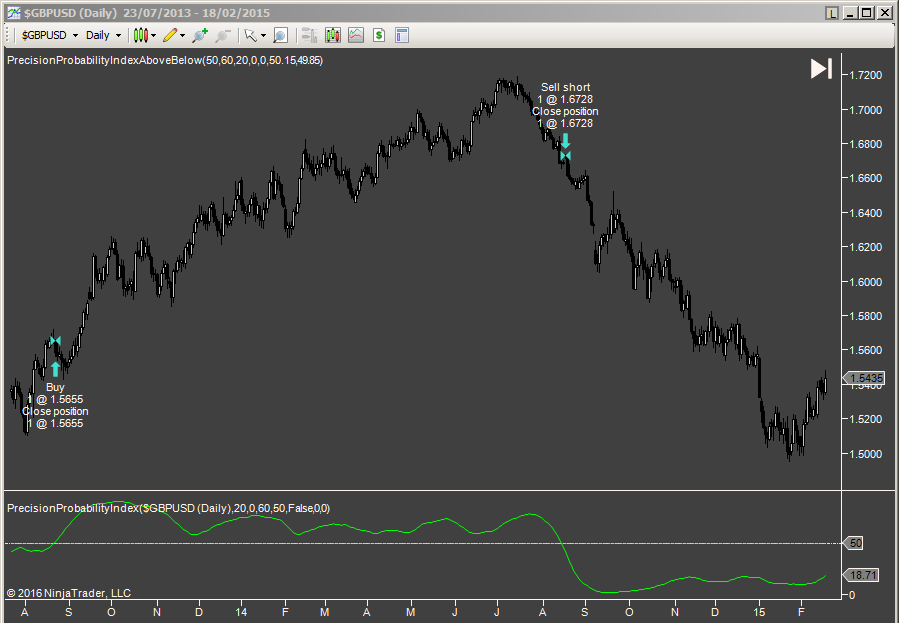 Chart below: SRE Daily
Precision Probability Index is used to trade on the crossing of the 50% line

Even though the up trend is very messy and volatile, PPI stays in long mode for about 2 years ( lower plot )

The upper plot shows a shorter length PPI which would be used for trading the minor moves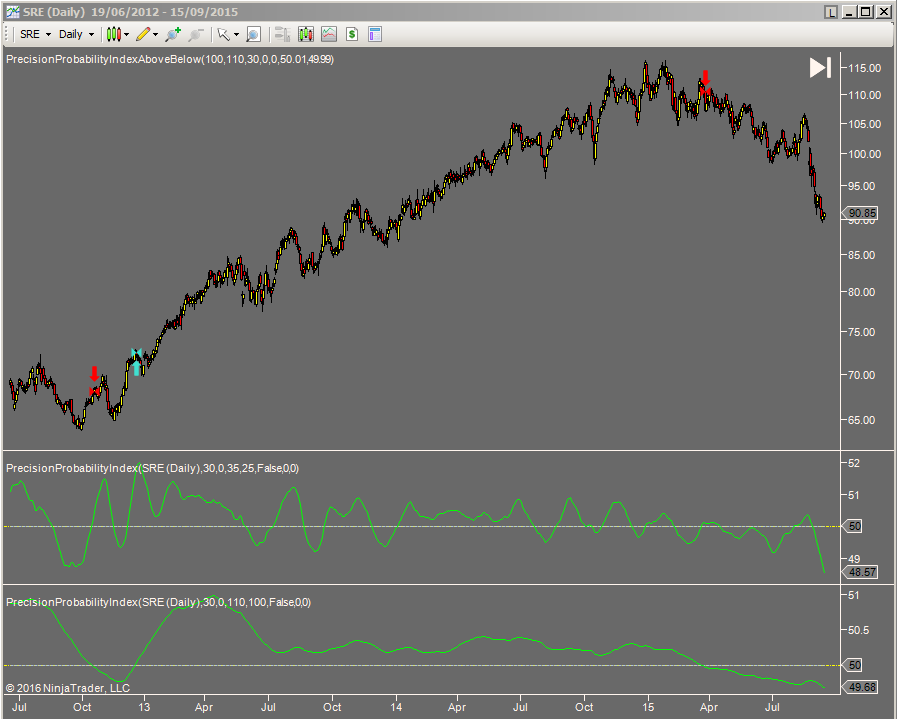 Chart below: Dax Futures FDAX Daily





Precision Probability Index is used to trade on the crossing of the signal line



As a rule of thumb the short period can be set to between around 10% and 50% less than long period

View licensing prices


FAQ for dummies

Question:

Which markets can PPI be used on?

Answer:

Stocks, Futures, Forex, ETF's, Indices, Bonds

Red pepper prices seem to have bottomed out------------->




ABSOLUTELY ANY MARKET




that has prices in your charts





Including vegetable prices you input yourself






Question:

When will the new version of Trading IQ Game be released?

Answer:

Work in progress now----->

Estimated March-April 2016

Question:

How do I find my NinjaTrader7 machine id?

Answer:

Go to Control centre, click on help, about, and your machine ID is the 3rd line from the top, you can copy and paste this into your Paypal order when you purchase.

Question:

What happens when my license expires? Are there any obligations to me?

Answer:

You will do very well to live more than 100 years after you purchase it

If you live to be 118 you will see this message expiration of license----->