The Precision divergence finder on the SP500 E-Mini contract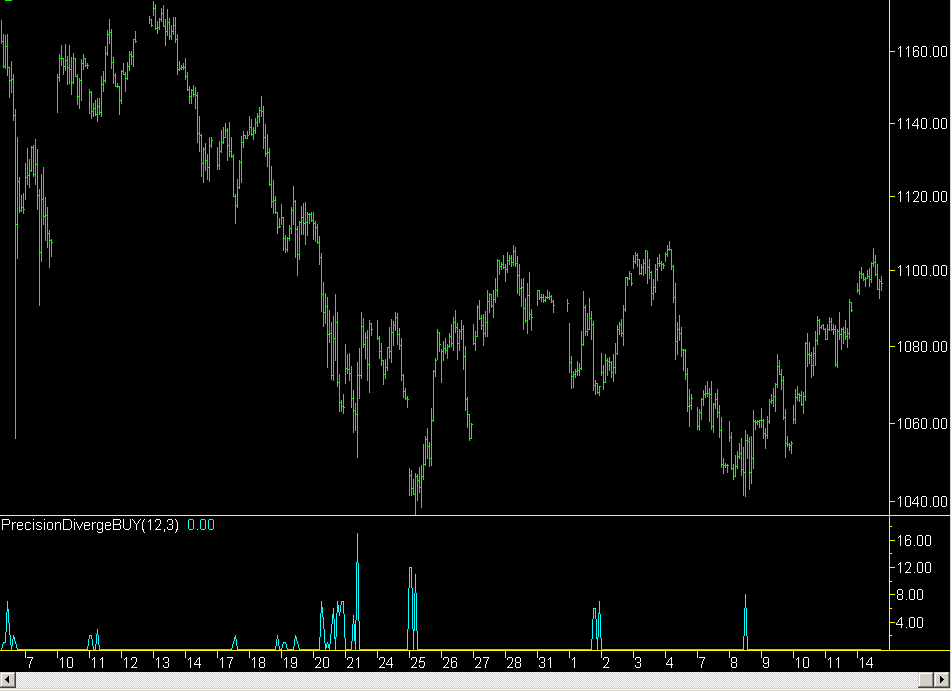 Why do you need this indicator?
Customer comments
Scroll down...below.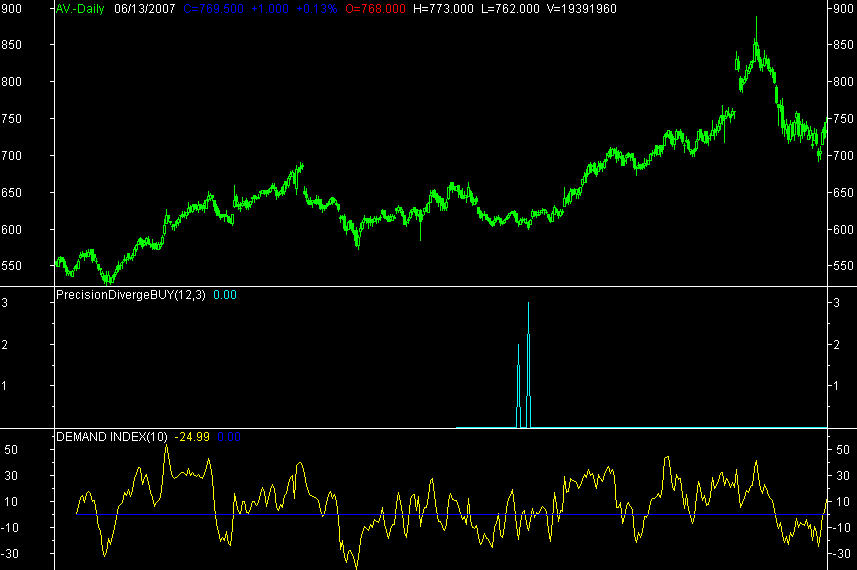 The light blue spikes show 2 and 3 bullish divergences occurred, heralding a nice 30% rise.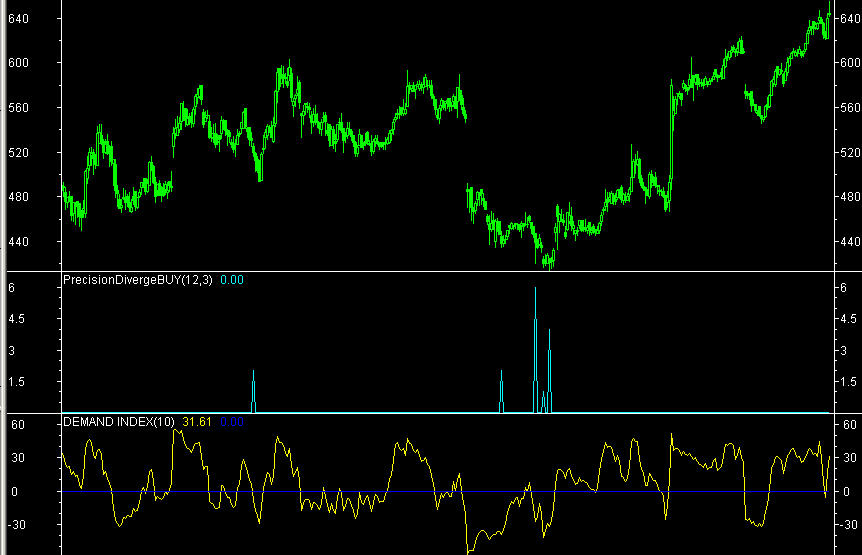 Generally the higher the number, the more valid the bullish divergence is.....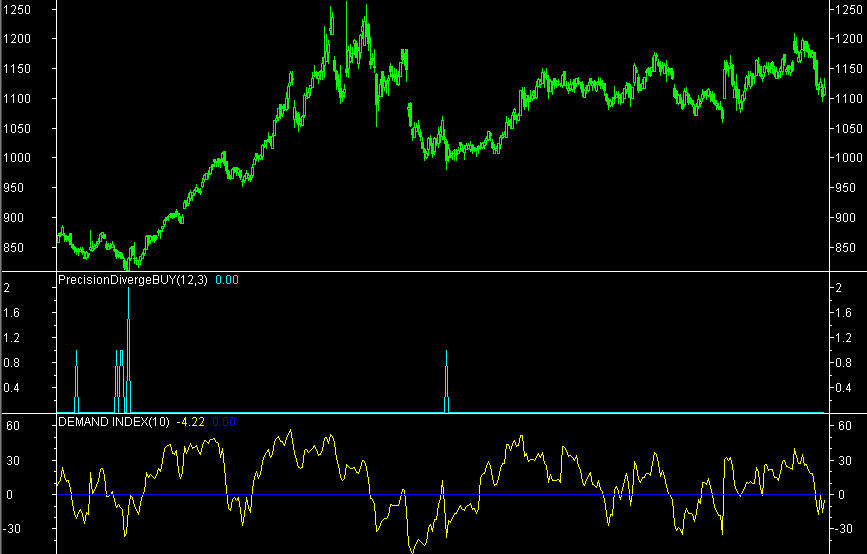 Providing clarity and simplicity for all levels of user expertise
Much easier to see than by viewing the Demand Index indicator plotted below it (yellow line).....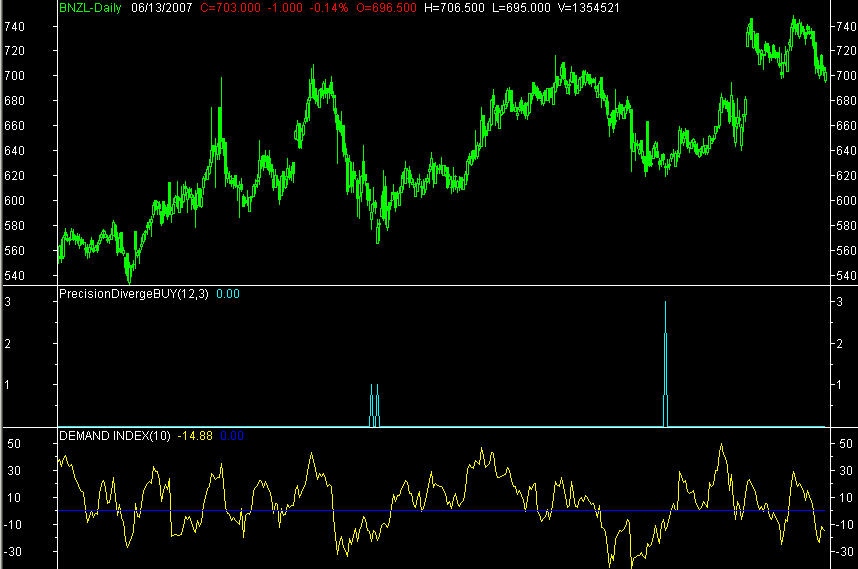 Do you remember the BAA take over bid? The Precision Divergence finder does...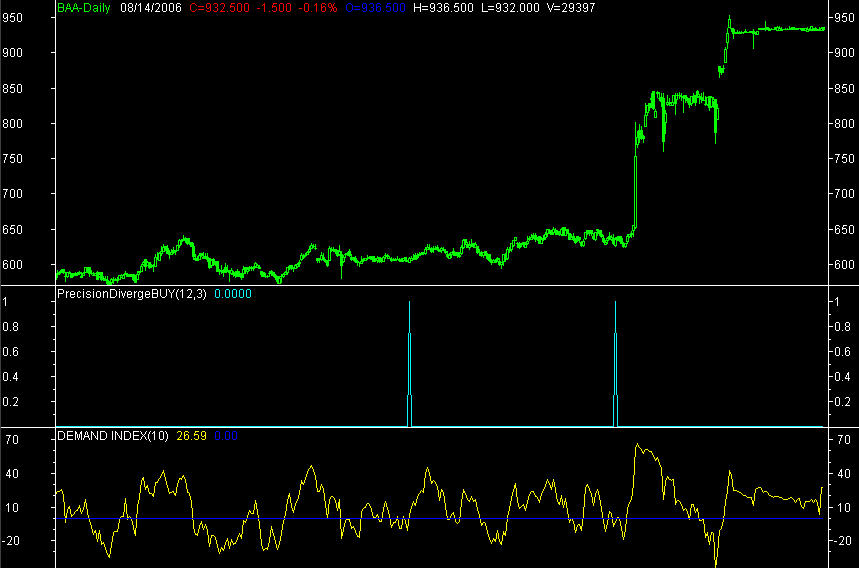 The best technical analysts worldwide know that the rarer the signal, the more reliable it is.....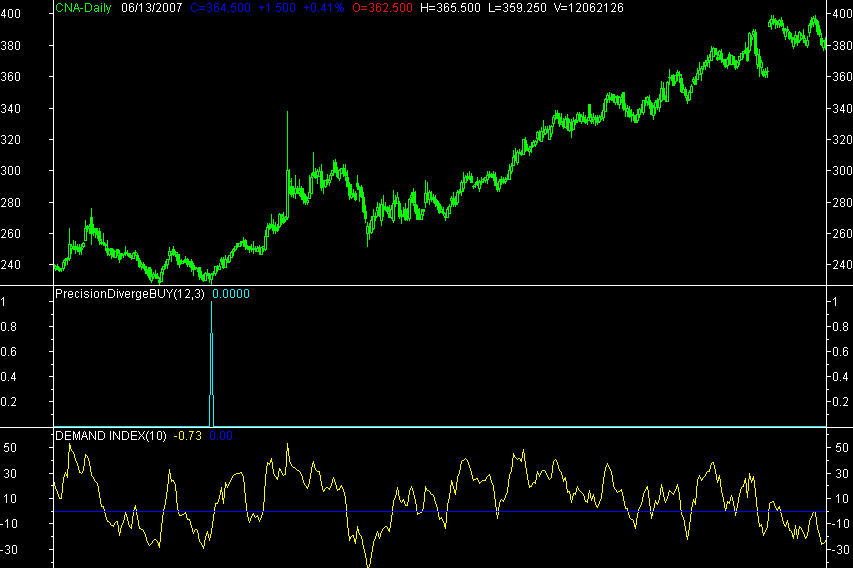 1, 6 and 2 bullish divergences heralded and 80% rise in Whitbread stock......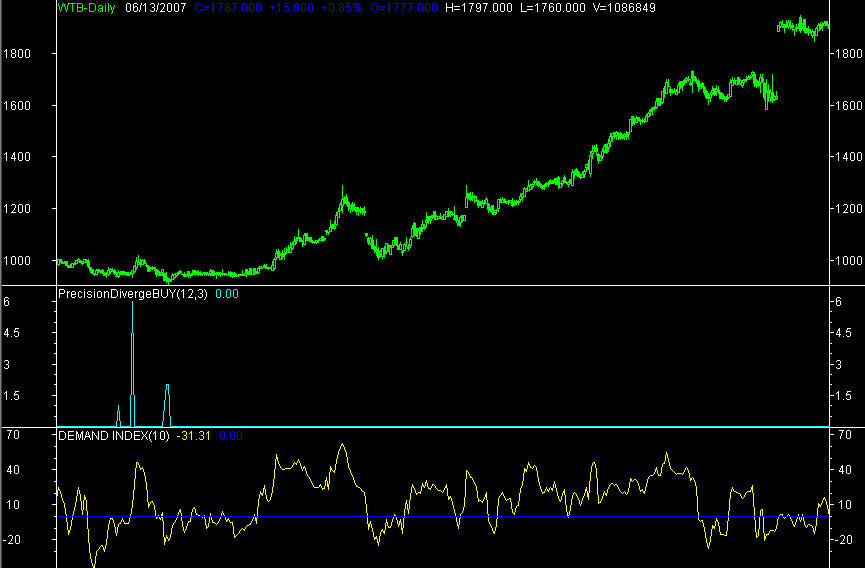 Would you prefer to analyse the yellow squiggly line of the Demand Index indicator plotted below it??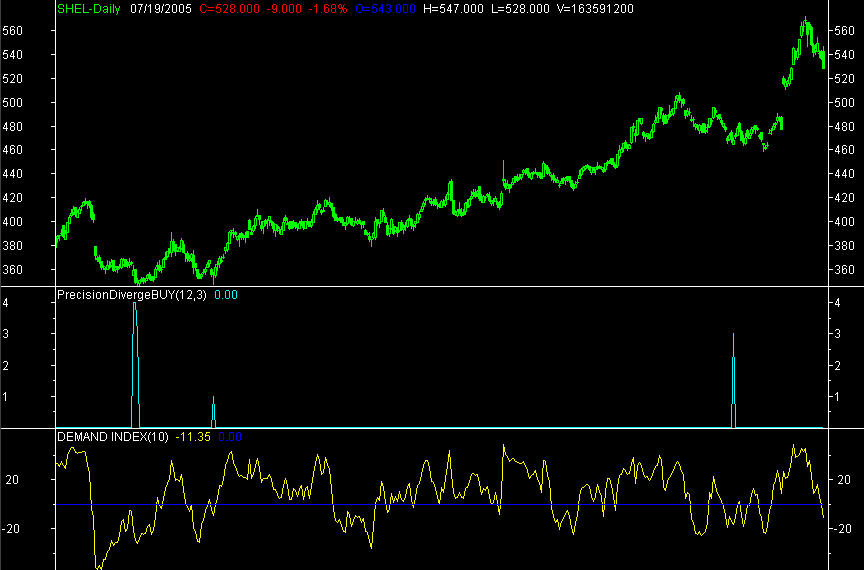 Or maybe you prefer to get all the maths done for you in at a glance simple form at blinding speed?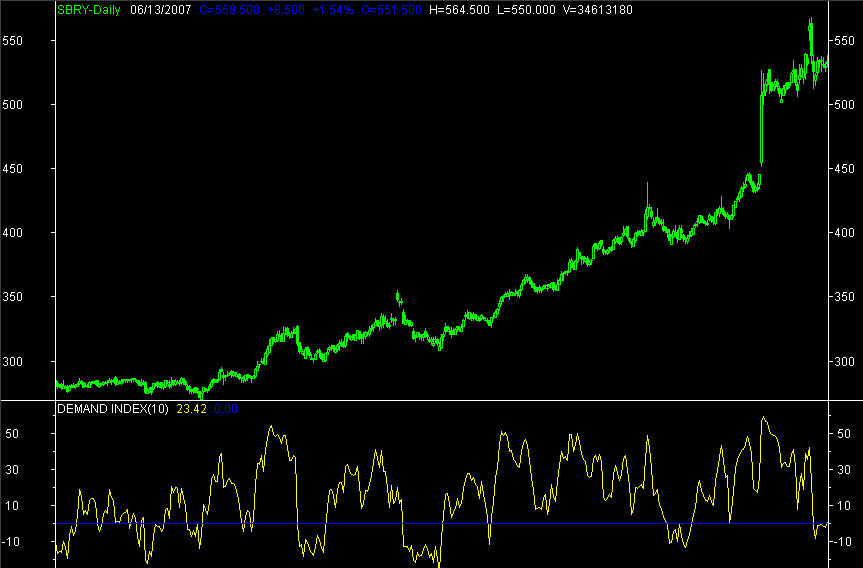 Which one do you prefer for your chart studies? Demand Index in its raw form above?
Or the simple efficiency of the Precision Divergence finder Below?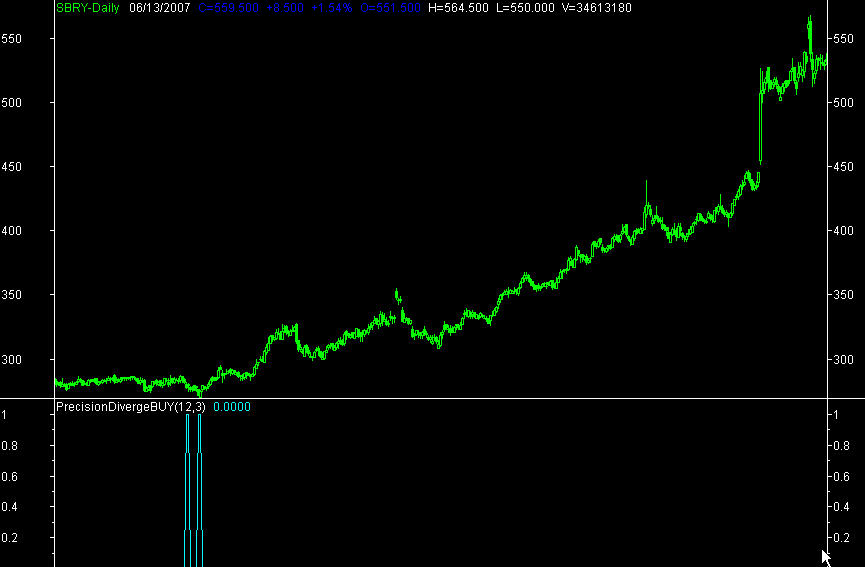 If you are interested in unusual indicators which are not of the standard school of thought you may be interested in the Precision Index Oscillator.

Designed for the discerning trader who is tired of the usual dull RSI type oscillators. This indicator is second to none for finding thos who like to buy the bottom and sell tops. An extremely complex indicator which does a huge number of calculations to compute its values. More...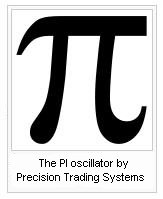 FAQ
Does the Precision Divergence Finder work on futures and stocks in real time?
Yes, the Precision Divergence finder works in any time frame, but best on daily or weekly price sets.
Although it can give some good signals on shorter time frame data, generally speaking intra-day signals are always less reliable than signal generated in longer time frame samples.
For example, you can see a hundred double tops and head and shoulders in a tick chart of a busy market every single day, but these are very insignificant in comparison to a head and shoulders occurring in a daily or weekly chart.
As with all signals in technical analysis the rarer the signal, the more significant it becomes.
If I don't like the product can I get a refund?
Precision trading systems has a 30 day money back guarantee on all products.
See conditions below.
Refunds will be given for the following reasons.
1. If a bug - error is found that cannot be fixed within 7 working days of a report being sent to Precision trading systems. (The 7 working day limit, does not apply if we are on vacation )
2. If you don't report any problem within 30 days of purchase you cannot claim your refund.
3. I have been using this for many years without any problems. So be please assured its reliable and accurate.
Please note:
Screenshots need to be provided for initial response and by remote pc access for the proof if it is required.
And a thorough description of what happened when you experience the error.
Do you provide a Precision Divergence Finder that shows a bearish divergence for sell signals?
No, the Precision Divergence finder only issues buy signals when there is a bullish divergence. The explanation is rather complex, but here goes...
I did code up the bearish equivalent of this product, and noted the behaviour of bullish and bearish divergences were very different, while it may seem to be a symmetrical equation it actually is not. Market psychology during peaks and troughs are very un-symmetrical in their nature and market tops are the result of the polar opposite emotions of fear - greed - euphoria.
It is often said that tops sneak up on us without fair warning, and this is very true. Market bottoms generally display much lower levels of volatility and this is due to investor expectations being much more conservative with less hope of success. (The attitude would be, XYZ stock is low at the moment, maybe I will start quietly buying a few and take my chances, as opposed to the euphoric excitable view of ...wow this stock is flying up, I must get these before I miss out on the huge profit chance) Frequently the 2nd scenario is followed rapidly by "buyers remorse" and "feeling stupid" and hence causes a wave of panic selling.
Furthermore, the Demand Index code while being an utterly superb piece of work by Mr James Sibbett, it just does not lend itself to handling panic selling and high volatility situations, I have spent many long hours pouring though the code for DI, as well as the code for my Divergence Indicator and have not found a way of altering it to provide good sell signals without jeopardising the excellent qualities of its buy signals.
Unfortunately, the sell signal ( bearish divergences ) of demand index are not as effective, and I never used it in my trading as it gives many fake signals during up trends which renders it useless. Sure there will be big divergences at most tops, but these cant be given validity because of the plethora of fake signals on the way up to the tops.
I never sell anything on my site which does not deliver good trading results.
Sorry for the long answer, but it had to be explained.
Does the Precision Divergence Finder work on tick volume or only actual trade volume?
Yes, the Precision Divergence finder works on both tick volume and trade volume, but frankly speaking I would not trust it when used on tick volume as the whole purpose of DI, is to reveal which direction big volume trades are place in.
E.G.
If someone bought 1,000,000 shares in a stock, it would only show as 1 tick up on tick volume analysis, but on actual volume data, you will likely see a large rise in the value of DI, which in turn would be intercepted by the algorithms contained in the Precision Divergence Finder causing it to give a reading if a divergence was evident.
Does the Precision Divergence Finder work on static end of day data? ( Not real-time )
Yes, and this was the data type used in the chart examples above. ( I will post some real-time examples soon)
You must have volume with the data, or you will not get any signals.
Roger this Divergence Finder gadget of yours is amazing, thanks for the real deal at bottom finding in real time!
Yes, it does work well, glad you like it.
Can you put the Precision Divergence Finder on hourly E-Mini SP500 futures and show me it?
Yes, see the photo at the top of the page, all the major lows were flagged up with good reading strength.