Percent Asymmetric for Multicharts instructions for use.
Importing into Multicharts
When you purchase this product you receive a file by email, you can save this file to your desktop.
In Multicharts open up the power language editor and click on file, import read only then select the file I sent you from the desktop
Percent Asymmetric signal and Indicator will then appear in the list of studies in your Multicharts platform.
There are two files which need to be complied. Percent Asymmetric Indicator and Percent Asymmetric Signal, if MultiCharts does not automatically do this then open both files and click on the compile button in power editor
Multicharts set up and useage
Create a chart window and add the symbol and time frame and chart style of your preference
Left click the chart screen and select insert study, select the Percent Asymmetric indicator from the list
You will need to set max number of bars the study will reference to "user specified " 50 ( SAME FOR SIGNAL AND INDICATOR)
In the subchart box please select subgraph#1
Then click the scaling tab and select same as symbol ( this sets it up to be scaled correctly to the chart )
In the inputs tab you now choose the long and short percentage you require.
Click ok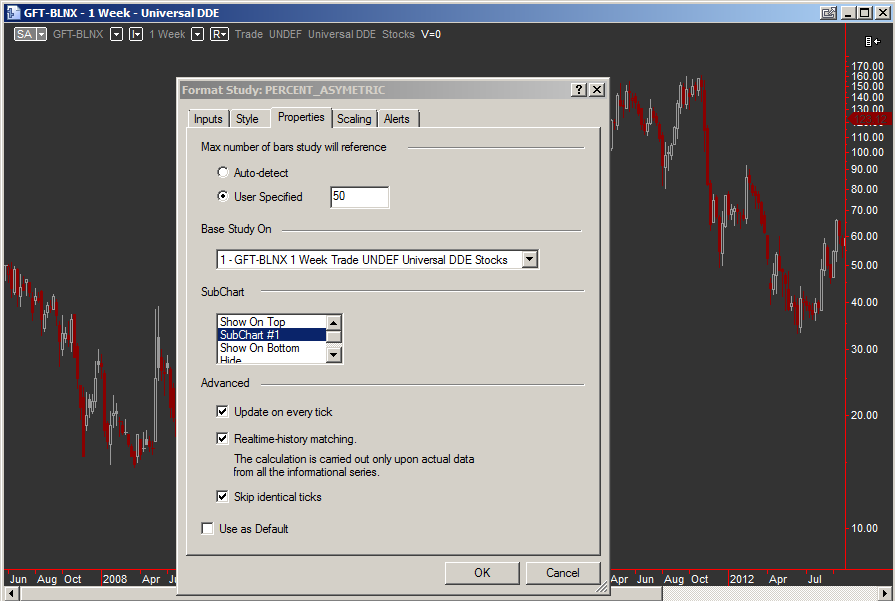 Once you have decided approximate settings for the indicator you can add the signal. This is done in the same was as adding the indicator but you must remember to add the exact same settings and also add the commission rules that match the instruments chosen. If this is not done then any strategy testing will be incorrect.