Software and system designers are aware the people are attracted to day trading and tailor their adverts to appeal to the masses

Some have the same tendencies as gambling addicts who lose money betting on baseball or horse racing, they will always have some winning bets and this reinforces their mistaken belief that they will win BIG

Most day traders do not have the patience to put in the work in researching their systems and techniques before they start and arrive at the trading scene helplessly under prepared.

Most do not have a hard and fast system that they stick to, and often break their own rules in a set of repeated errors over and over again.

Many lack the discipline to cut their losses fast and small, and take profits too soon.
3. They are attracted to the excitement of watching real time prices and charts and the adrenaline rush with it
They feel important and flash when sitting in front of lots of flashing lights, bells and whistles

They believe they can make millions in a few hours just as those adverts lead them to believe.

They cannot hold any trades overnight because they deal much to big for their account size.
4. If day traders had zero commissions then many of them would be in profit over the long term
Many ( but not all ) day traders are quite good at timing, but trade too often and take such small profits that they lose in the long run.

Even when paying tiny costs, and using instruments with very tight spreads is not enough to save them from the pit of peril.
But surely there are some ways to win at day trading? If the day trader is like the man below, then sadly he has no chance.
The average man doesn't wish to be told that it is a bull or a bear market.
What he desires is to be told specifically which particular stock to buy or sell. He wants to get something for nothing.
He does not wish to work. He doesn't even wish to have to think
--- Jesse Livermore ---
Lets assume a day trader falls into category 4 and if he or she took out their costs from the book keeping, they would be profitable.
For example the day trader will be drawn primarily to leveraged products such as futures, commodities and forex where he can get $100,000 worth of action for about $2000 to $5000 margin, which makes him feel a sense of being a big shot trader.
First of all after he places a trade, he will be very very excited, nervous and full of fear because his trade is so big in relation to his account. He cannot hold his trade for long, because if it goes the wrong way it will cause him to wipe out his account or at the least, suffer a large loss..
With all this emotion comes many psychological influences, such as
Not being able to stick to the plan (if any) that he had before placing his trade.

The temptation to place his exit stop very tight, which will lead to most of his trades being stopped out just by the noise in the market.

Sitting on the edge of his chair with sweaty palms, which leads to a "trigger happy" scenario.

Taking profits far too early, as the money made is very large in proportion to his account...but

The losses are proportionally large and cause huge fears in the trader.
What can day traders do to improve their statistics in the long run?
The points below are again probably what you will not want to know..
Cut down on deal size, so each trade does not use such high leverage against your account. This will reduce stress and excitement which is what causes traders to make mistakes

Slow down your system, so that it produces less trades

If you target was to make 20 points or 20 pips and your stop loss was 10 points or pips, then simply increase these by the same amount so as your overall profit is great enough to nullify the effect of commission costs on your account.

Carry some smaller trades overnight if they are doing well. This will give you a chance to catch a bigger win than is possible from closing trades out at the end of the session

Finally and definitely the most important of all. BACK TEST your system to make sure it works including costs, and also figure if you will be able to stick to the finished system.
What can day traders do to reduce their systems trading frequency so that it can be profitable?
This can be done by increasing profit targets and stops to slow down the frequencies

Increase the time frame sampling intervals from 5 minute to 20 minute for example

By using a low frequency system like Mach-Trend to produce less trade signals

Wait patiently for the correct conditions that suit your system before placing trades.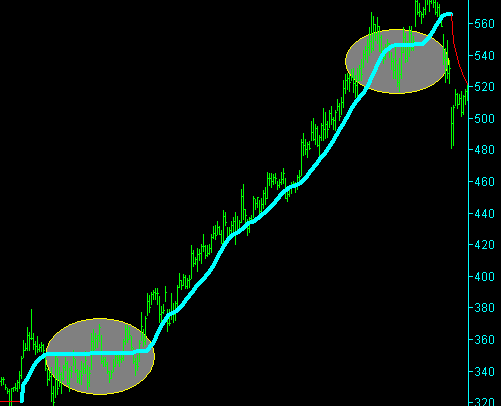 The Mach trend indicator is designed purely with reducing whipsaws and keeping YOU in the major trends, helping you to cut your dealing costs right down to a minimum.
The psychological aspects of day trading are very important to address.
Talk to other traders in great depth about the "emotional mistakes" you make in a form of counselling that will help to unblock your repeating errors.

Keep a diary of your good and bad points and work out ways to improve them.

Only trade when you are sure you are able to stay at the screen until the end of the session.

Placing a trade one hour before you are due to go out on a date is a recipe for disaster, and will also spoil your date
Remember that 90% of day traders lose and the money all gets won by the top 10%
Where is you position on that pyramid?
I sincerely hope you can improve it.